Weighing Accessories
MDG Applications • Stockpile Recovery • Hopper & Silo Discharge Control • Batch & Blend Control
The MDG discharge gates provide a simple and reliable method of controlling free flowing bulk materials from stockpiles, hoppers, silos and bins. Material can be fed directly into vehicles, rail cars, and barges or delivered onto collecting conveyors for onward transportation.
When the control gate is open material flows out via the aperture due to gravity.  Movement and positioning of the control gate is achieved via a simple rack and pinion mechanism, driven by an integral motor gear unit.
Flow rates vary dependent upon aperture outlet size and positioning of the control gate.  Gates are manufactured in various sizes, the minimum outlet size being 300 mm square. This rises to 1000 mm square in 100 mm length and width increments, so oblong outlets can also be catered for.
Please contact us for further information. Call 0333 300 1852 to speak to a member of our UK team. Ask about our service plans.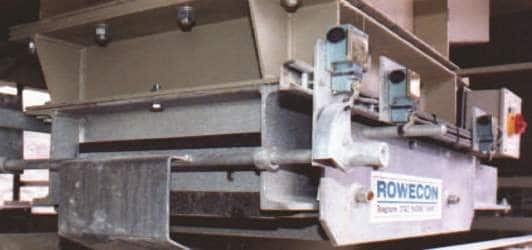 The other products in the range