In-Line Dynamic Check Weigher
Determining the weight of pre-packed product as it leaves the production line is an important aspect of compliance and quality assurance.
Our CKW Check Weighers can handle a wide range of products from 100s of grams to outer cases or sacks as heavy as 60 kg.
The design allows for easy integration into an existing production line. Cleaning and maintenance are both straightforward.
Functionality includes;
Dynamic or static weight measurement
Tolerance check
Missing product check
Order compliance check
Transport fee estimation
Legal for trade or non trade use
Field bus or serial mode communication
Eased integration into the handling line
Available in standard version or stainless steel version
Feedback to fillers and comprehensive data collection are all incorporated.
Download a pdf brochure for further information.  Call 0333 300 1852 or complete the Contact Us form to connect with a member of our expert team. Learn more about our flexible Service plans.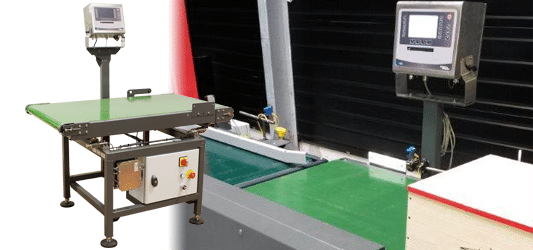 The other products in the range