SYSTEMS FOR ATEX & IECEx APPLICATIONS
29Instruments and load cells can be supplied for areas classified according to ATEX and IECEx including Zones 1/21 and 2/21.
The i 40 Ex 2-21 weight indicator has been specifically designed for process weighing and will integrate with any industrial process involving weight measurement. It can be directly installed in an explosible atmosphere for dust (zone 21) or gas related (zone 2) risks.
Key Features
• FSC Technology (Field Sequential Colour)
• 7 colour configurable backlighting
• Weight display over 7 characters (25 mm high)
• 10 character text zone (8 mm high)
• Weight units: g, kg, t and lb
• Metrological and field bus activity indicators
• Wide viewing angle and sharp contrast
The i40 Ex weighing terminal provides the possibility of full automation. For example filling and dosing completely within Zones 1 and 2.
Download a pdf brochure for detailed information. Call 0333 300 1852 or complete the Contact Us form to speak to a member of our expert team.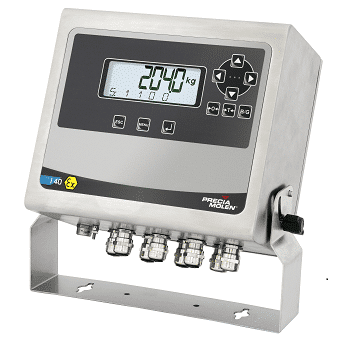 The other products in the range